If you plan on installing another version of linux on the Lenovo S10-3t then I recommend installing Meego first.  The Meego bootloader likes to be in charge and does not play well with other installations of linux and grub.
What's needed
A USB flash drive – 1 Gigabyte or larger (if using a cd and an external drive you may jump to the Installing Meego section).
Meego netbook image.
Lenvo S10-3t
Preparing USB Flash Drive
Download the meego netbook image from here.  Rename meego-netbook-ia32-chrome-1.1.img to meego-netbook-ia32-chrome-1.1.iso.
Format the USB Flash drive.  This will remove all data from the drive.  Please backup any data you would like to keep.
Click Start then Computer.
Browse to the USB flash drive.
Right click the flash drive and choose Format.
Confirm that the file system selected is FAT32.
Under Format Options make sure the Quick Format is enabled.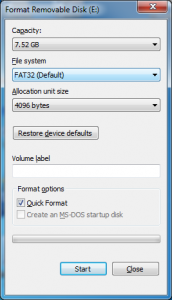 Click Start.  Read the warning and click OK to continue formatting the drive.

Download UNetbootin for windows from here.  There is nothing to install.  Simply run UNetbooting by double clicking the downloaded executable.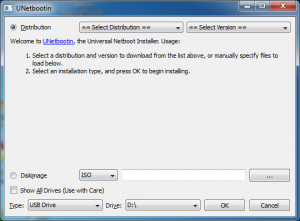 Select the Diskimage radio button and use the Browse button to select the iso file you downloaded.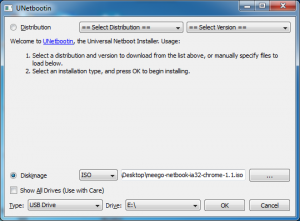 Click OK to begin the process.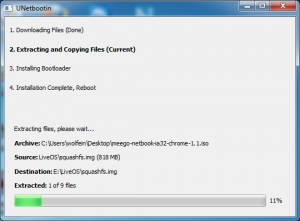 Once the installation is complete then click Exit (We are not ready to reboot yet).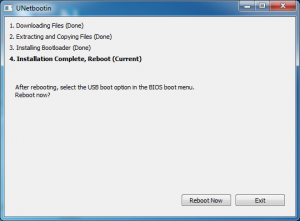 Resize Windows 7 Partition
Click Start.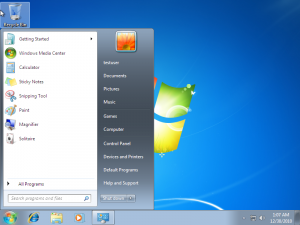 In the search field type partition and press enter.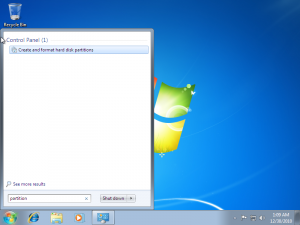 Select the C: drive in the upper pane and locate the C: drive in the lower pane.  If there is no unallocated space or you would like Windows 7 to use less space then you will need to resize your partition.  Otherwise you can skip the rest of this section.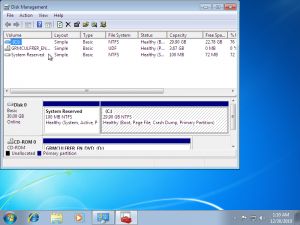 In the lower pane right click on the C: partition and select Shrink Volume.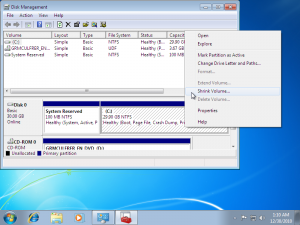 Windows request the amount of space to shrink the volume by.  For example, if your C: volume is currently 30,000MB (30GB) and you would like to shrink you partition to 20,000MB (20GB) then you would enter 10,000 in the space to shrink field.  The amount you enter must be less than the Size of available shrink space.  I would recommend that you C: partition should be no less than 60GB (60,000MB).   But you will need to be the ultimate judge of how large you expect your windows partition to grow.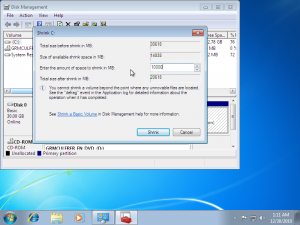 Once you have set the amount to shrink the volume then click Shrink.  When done you should see your new volume size.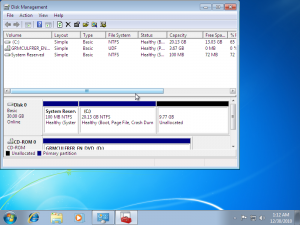 The Lenovo s10-3t should be set to boot from USB by default.  If yours does not boot from USB you will need to make changes in the bios settings.
Make sure that your new Meego USB key is plugged in and restart your netbook.  The netbook will boot to a screen that is very similar to the image below, but without all the pretty graphics (you will see this image if you boot from CD – I ran the install in parallel between a Virtual Machine and the actual netbook in order to capture better screenshots).   Select Installation Only.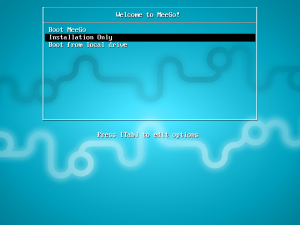 You will notice that the touchpad does not work, use the touchscreen to click the ">" to continue the installation.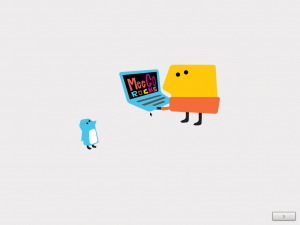 Select the appropiate language (remember to use the touchscreen during the install).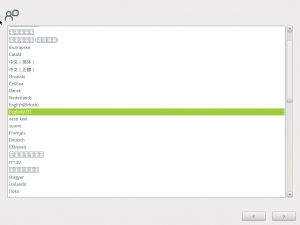 We resized your partition in advance because the Meego installer is not able to correctly recognize the size of the partitions.  All the partitions are listed as 0MB.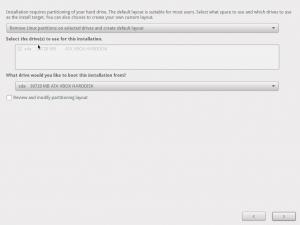 In the first dropdown menu select Use free space on selected drives and create default layout.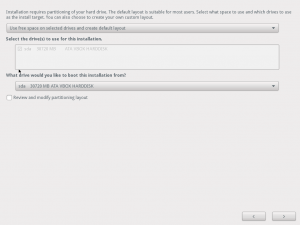 Check Review and modify partitioning layout.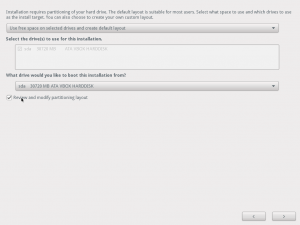 Select the btrfs partition and click Edit.  Select fixed sized and change the size to the size you would like your meego partition to be, recommended (20480MB).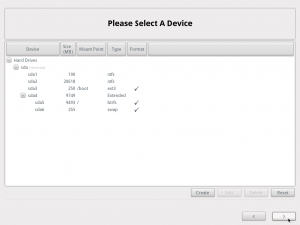 Click the ">" button and click Write changes to disk.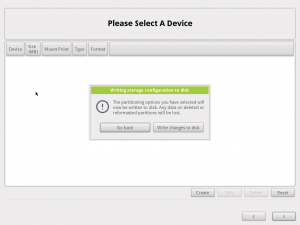 In the Boot loader operating system list click Other then click Edit.  Here you can change the label.  I changed mine to Windows Home Premium.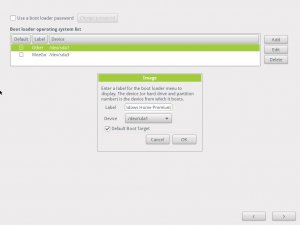 If you would like you can set Windows as your default operating system (Although this setting seems to be ignored, but we will fix this later).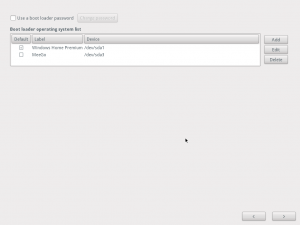 Click the ">" button to continue the installation.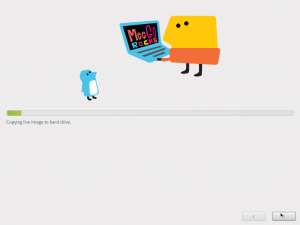 Your installation is complete!  Just follow the onscreen instructions.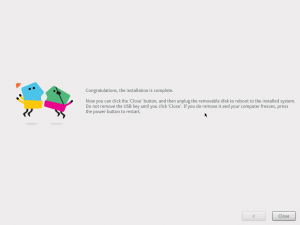 Welcome and Setup
The rest of this is pretty self explanatory, but I will include screen shots for good measure.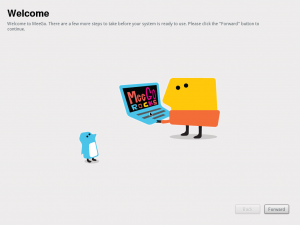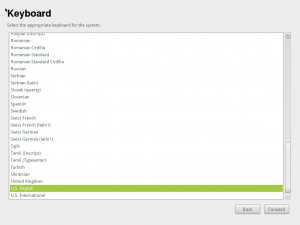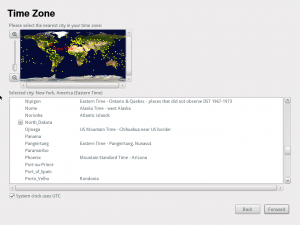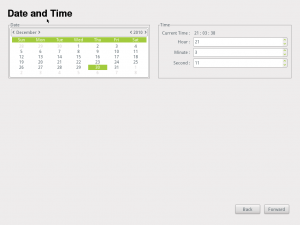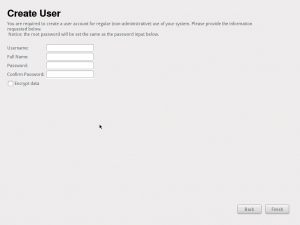 The installation is complete.
Fixing Grub
If you have already rebooted after installing Meego then you may be unpleasantly surprised by the fact that you did not see a bootloader menu and you have now booted directly into Meego with no opportunity to choose your windows installation.  Well here is how we fix that.
Go to Applications -> System Tools -> Terminal.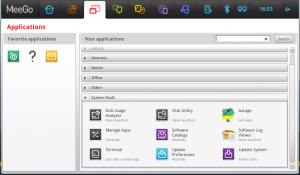 At the prompt type the following:
$ sudo gedit /boot/extlinux/extlinux.conf
Enter your password.
Modify and comment the relevant lines in extlinux.conf to match the following:
timeout 100

#menu autoboot Starting MeeGo…

#menu hidden
Also make sure to add a "menu default" statement under the label of the Operating System you want to boot by default.
Example:
# extlinux.conf generated by anaconda

prompt 0
timeout 100

default vesamenu.c32
#menu autoboot Starting MeeGo...
#menu hidden

menu resolution 1024 600
menu background splash.jpg
menu title Welcome to MeeGo!
menu color border 0 #ffffffff #00000000
menu color sel 7 #ffffffff #ff000000
menu color title 0 #ffffffff #00000000
menu color tabmsg 0 #ffffffff #00000000
menu color unsel 0 #ffffffff #00000000
menu color hotsel 0 #ff000000 #ffffffff
menu color hotkey 7 #ffffffff #ff000000
menu color timeout_msg 0 #ffffffff #00000000
menu color timeout 0 #ffffffff #00000000
menu color cmdline 0 #ffffffff #00000000
label meego
menu label MeeGo (2.6.35.3-10.3-netbook)
kernel vmlinuz-2.6.35.3-10.3-netbook
append ro root=/dev/sda5 quiet vga=current
label win7
menu label Windows 7 Home Premium
menu default
kernel chain.c32
append boot 1
You should now be greeted by a screen like the following when you boot your netbook.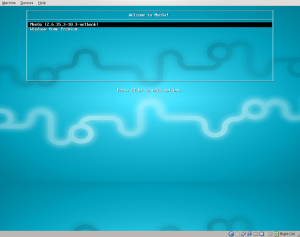 Congratulations, now you can Dual boot between Windows 7 and MeeGo!